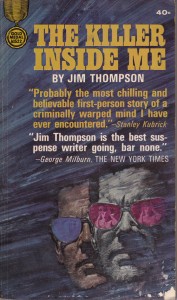 This month I've been Concentrating on editing a few more of my books, so I can get them up on Kindle. The next book will be Spider Mouth, a thriller about a spree of strange and gruesome suicides and their connection to the discovery of dead old men with spiders found in their mouths. It also involves a murder of a young woman.
The next book after the above will be Welcome To Killville, USA. It's a kind of ode to Jim Thompson, the noir pulp writer of the 50s and 60s. One of his books was recently made into a film called The Killer Inside Me. He is one of the great unsung writers, that managed to paint a picture of America that was dirty, greedy and plain human. There are no heroes or villains in his books, just people trying to survive. If you haven't read any of his books, I recommend picking one up.
I guess people will soon be writing about Bin Laden and his recent demise. But that's what writing is all about, taking the factual and turning it into something imaginary. Like Jack The Ripper. By the way, has anyone read any good Jack The Ripper books lately? I ask because I'm working on a book that I wrote quite a while back which a great deal of is to do with Jack The Ripper. It's set in Victorian London when Jack was going about his terrible business, and is narrated by a young reporter sent down from the North of England to investigate the evils that lie in the heart of the East End. The book is not only about Jack The Ripper, but also centres around a character whose wife and child have been murdered. He escapes prison and uses the young reporter to help him find the real murderers of his family. It took ten months to write, and a lot of research went into it. All Jack The Ripper material in the book is authentic. It's also 685 pages long!
Don't forget, Murderson is still available from Amazon: