Well, I'm over halfway into
the second month
of publishing my books
on Amazon Kindle.
The sales are going well
for a second month,
but it is a marathon,
not a sprint.
In amongst editing and
writing my new book,
I've been conversing with
my old friend and
fellow writer Simon Dunn.
Simon has written
for Channel Four's
Smack The Pony, TV TO GO, The Sketch Show
and has previously performed stand
up all around Britain. He has now
published his Pulp noir detective parody:
Rotten Apple.I wanted to get Simon's view on the
ebook revolution, so here we go:
MY .So, you're book Rotten Apple is doing
well on Amazon at the moment:
what's it about?
SD. One reviewer says it's Frank Drebin meets Dirty Harry, while another says it's a
noir masterpiece. It's a parody of pulp writing and conventions,
with lots of daftness and absurdity.

MY. What made you come up with a parody of the detective genre?
SD. I thought it would be ripe with humorous opportunities. It's also much easier to parody something
you know quite well, and something that has so many inherent cliches and pitfalls.
MY. Tell us about the characters?
SD. Um, Vic Malone is Frank Drebin and Dirty Harry all rolled in to one, apparently.
If you can think of a stereotypical character from a pulp novel, chances are you'll meet them in Rotten Apple.
MY. How have you found the whole kindle experience so far?
SD. Interesting, and exciting. I love the freedom it allows, and I'm curious to see how it develops here in the UK.
Amazon are just starting to really push the Kindle here, and
I hope people jump on it as eagerly as they have in the US.
MY. Do you think it's a good thing that now anyone can publish their books?
SD. Yes, and no. I think it's marvellous that self-publishing has shaken itself from the shackles of grubby
vanity presses. Hopefully the readers will be good gatekeepers, shaking the wheat from the chaff.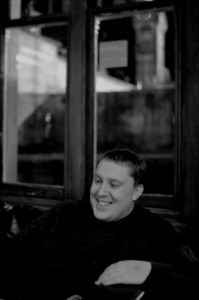 MY. You have quite a
following as a comedy writer
and podcaster. Has this helped
when it comes to
marketing your book?
SD. Urgh, don't talk to me about marketing.
That's the huge down side of self-publishing
on the Kindle,
and I suck at self-promotion.
It's helped a lot that I have an audience
from my podcast, and they
have been incredibly supportive,
but I find it hard to push my own
work without feeling like a complete twunt.
MY. What other writing projects have you on the go?
SD. I'm currently re-writing a sitcom script for an agent, and pitching drama ideas
to an independent production company. In between all that, I'm slowly writing
my next Kindle release.
MY. Obviously for a ebook author, marketing is going to be
something they have to do alone.
Have you got any tips for indie writers?
SD. Don't just plug your book, interact with readers on bulletin boards and forums.
You should be engaging
with people as people, not as potential buyers.
I get fed up with reading threads which are laced with desperate self-promotion.
MY. So, as a member of the new ebook revolution,
can you see a time when ebook
sales overtake paperbacks and hardbacks?
SD. I think in some markets they already have.
Simon Dunn's book Rotten Apple is available at Amazon Kindle.
Check out his website: http://www.simondunn.me.uk/
Thanks, see you again next time.