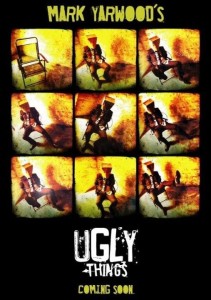 When 'Mate' finds himself handcuffed to a boat that's speeding towards a Cornish cliff, he starts to recall how he ended up heading to his doom.
He remembers he had a successful  life as a vain and sex obsessed salesman, which ended when he became disfigured by a new face cream his company was about to market.
On his doctor's suggestion, 'Mate' heads to a quiet fishing village where the waters there are rumoured to cure all ailments. With Obsessive Compulsive Kevin, his only friend, in tow, 'Mate' moves to Cornwall where his face might be restored to its former glory.
What he doesn't count on is the cast of strange characters he meets by the sea, like Janet the pornography obsessed artist. Or Margaret Parks, the sixties film star, who will do anything to be famous again. Then there's the former East London gangster, Billy Webb, who will torture and murder anyone who gets in Margaret Parks' way.
All  'Mate' wants is to live a quiet and beautiful life again, but his new found friends want to drag him kicking and screaming towards fame, fortune, porn art, exploding boats and ultimately death.
UGLY THINGS is part satire, part dark and twisted tale of our world's obsession with beauty, sex and art.
Coming soon to Amazon Kindle.