---
---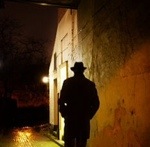 From the mean streets of North London, Edmonton to be precise, came the Special Crime Group, a crack team of officers who were determined to right the wrongs they found all around them. It has not been an easy task for them as they have found themselves pitted against a whole smorgasbord of scum and villainy over the last few years.
The series began with SPIDER MOUTH, which involved DI Fred Fairservice who was put on the case of several mysterious suicides that seemed to be linked to a suicide website and the deaths of several old people who were found with spiders placed in their mouths. The next case was MURDERSON, where several young men were found cut to pieces at each crime scene and their body parts placed to resemble a macabre clock face. Heading the team in that particular case was DI Paul Webb, a detective still obsessed with his ex-girlfriend.
The first thing I didn't want to do with this series of books is to have the same detective and team investigating every new series of murders that came along. This would be very unrealistic, even though most crime fiction would have you believe otherwise.
What would usually happen is the SIO (Senior Investigating Officer) would pick a murder investigation team from detective constables, detective sergeants and detective inspectors. These detective's would usually be different from the last team that investigated a major incident like a serial murder case. This is the way I have formed the series, with each book being set around a different team, and different lead detective character, even though sometimes the members of the team might end up working with each other again.
The only time I've changed the format and kept the same lead character, in this case DCI Jairus, is when I wanted Jairus' story to continue from THE AMOUNT OF EVIL and into WHEN THE DEVIL CALLS. DCI Jairus is one of the few detectives that never wants to leave, never seems to want to go back to his lonely flat. Like many coppers, he lives for the job -is the job. But that nearly ends when he kills a suspect in self-defence.
After a long break, Jairus returns to work to find himself leading the investigation into the brutal tortures and murders of several influential businessmen. Each victim is drugged, cut to pieces while alive, then beheaded. Their heads are stuck on a pole as a warning to someone, somewhere. The message is clear: You're next.
DCI Jairus became of great interest to me and I was curious to see where he might lead me and the readers next. Even so, the 6th book in my Edmonton crime series, THE FIRSTCOMER, has a new SIO, DCS Phillip Radford, brought in to head the investigation of a mass grave found in the countryside surrounding Enfield.
With another new character, DS Paula Lowe, in tow, Radford returns to him home town, a place he'd rather have stayed away from. Radford is a complex character, with many annoying qualities that rub the rest off the team up the wrong way. But even if he isn't well liked, there's no denying that he's good at what he does. DS Lowe has a strange kind of loyalty to her boss, which is also explored in the book, but there's also much more that's revealed during the story.
The team are up against an identity stealing serial killer, and one who is far ahead of the game when the story begins. Moone, Napper and Carr, are also back in actions, but it's safe to say that after this book, life and crime at Edmonton Police station will never be the same again!